Department Profiles
Mary Lynch MD FRCPC
Pain Management Unit - Capital Health
Queen Elizabeth II Health Sciences Centre
4th Floor Dickson Building
5820 University Avenue
Halifax, Nova Scotia B3H 1V7
Phone: 902 473 6428
Fax: 902 473 4126
Email: mary.lynch@dal.ca

Brief Biography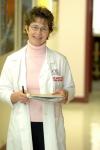 Dr. Mary Lynch is Professor of Anesthesia, Psychiatry and Pharmacology at Dalhousie University and Director of Research at the Pain Management Unit, QEII Health Sciences Centre. She has 25 years of experience as a clinician and researcher assisting patients with chronic pain.
Dr. Lynch's research interests have focused on the development of new agents for the treatment of neuropathic pain, integrative care in chronic pain management, development of wait-times benchmarks and strategies for service delivery. She is principal investigator of the Canadain Foundation for Innovation funded Canadian Pain Trials Network and founding director of the Canadian Consortium for the Investigation of Cannabinoids. Dr. Lynch currently holds funding from the Canadian Institutes for Health Research, the Nova Scotia Health Research Foundation and the Dalhousie Faculty of Medicine for a randomized controlled trial examining the efficacy of methadone in the treatment of chronic neuropathic pain.
Dr. Lynch is Immediate President of the Canadian Pain Society, and has previously chaired its wait times task force and co-chaired the task force on service delivery. She has also served as co-chair of the International Association for the Study of Pain's task force on wait times and co-chairs the National Pain Strategy initiative.
Dr. Lynch was awarded a coveted Mayday Fellowship , Dr. Helen Hays Award for Excellence in Pain Management and recently was also awarded a Woman of Excellence award for contributions in Health and Wellness. She is the author of the self-help manual "Surviving Your Personal Injuries Claim and Litigation" and lead editor of Clinical Pain Management, A Practical Guide.
Select Publications
Lynch ME, Sloane G, Sinclair C, Bassett R. Resiliance and art in chronic pain, Arts & Health, 2013;5 :51-67
Lynch ME, Sawynok J, Hiew C, Marcon D, A randomized controlled trial of qigong for fibromyalgia, Arthritis Res Ther, 2012;14:R178, doi:10.1186/ar3931.
Lynch ME, The need for a Canadian pain strategy, Pain Res Manage 2011:16; 77-80
Cousins MJ, Lynch ME. The Declaration of Montreal: Access to pain management is a fundamental human right, Pain 2011;152: 2673-2674.
Lynch ME, Fischer B. Prescription opioid abuse, what is the real problem and how do we fix it? Can Fam Physician 2011; 57; 1241-1242
Lynch ME, Campbell F, Cannabinoids for treatment of chronic non-cancer pain a systematic review of randomized controlled trials, Br J Clin Pharmacol 2011 ;5:735-744.
Lynch ME, Schopflocher D, Taenzer P. Research funding for pain in Canada, Pain Res Manage 2009;14:113-115.
Lynch ME, Sawynok J, Bouchard, A pilot trial of CFQ Qigong for treatment of fibromyalgia. J Alt Complement Med 2009;15:1057-1058.
Lynch ME, Pharmacotherapy of chronic pain. Rheum Dis Clin N Am 2008;34:369-385.
Lynch, ME, Do we care about people with chronic pain? Pain Res Manage 2008;13: 463.
Select Research Studies
A Double Blind Randomized Controlled Trial Examining the Efficacy of Methadone in the Treatment of Chronic Neuropathic Pain
A Double Blind Placebo Controlled Crossover Trial Examining the Cannabinoid Agonist (Sativex) in Chemotherapy Induced Neuropathic Pain
A Controlled Trial of Qigong in Fibromyalgia
Insprational Artist Study, A qualitative study examining the interaction between creation of art and the experience of pain
National Neuropathic Pain Database, an observational trial
Cannabinoid Abuse Potential Observational Study
Information last updated 2015-05-27.