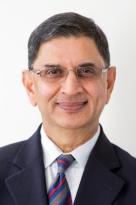 Department Head's Message
The Dalhousie Department of Anesthesia, Pain Management and Perioperative Medicine's first responsibility is to provide exceptional anesthesia care to people of all ages at the QEII Health Sciences Centre, the IWK Health Centre, the Saint John Regional Hospital, the Dartmouth General Hospital and the Hants Community Hospital.
In addition to providing excellent clinical care, our 100+ department members teach the latest techniques and skills to anesthesia residents and medical students, conduct medical research in many areas of anesthesia, and impact the lives of people in developing countries through their global health efforts. (Read more...)
Department Overview
The Dalhousie Department of Anesthesia, Pain Management and Perioperative Medicine has a four-fold mandate encompassing safe, quality patient care, education, research and stewardship of people's health at home and abroad.
Created in 1945, the department has grown to provide a full spectrum of critical care and general clinical services and administer leading edge programs in blood management, pain management and regional anesthesia. It subspecializes in cardiac surgery, neurosurgery, obstetrics, pediatrics, thoracic surgery and transplantation. (Read more...)
News
New Study to Investigate the Role Inflammation Plays in Rheumatoid Arthritis and Heart Failure
Jason McDougall, PhD, is among a team of Dalhousie researchers leading an international study investigating the role inflammation plays in rheumatoid arthritis and heart failure.

The Dalhousie-led group will study two cohorts of patients: those recovering from recent heart attacks and those living with newly-diagnosed rheumatoid arthritis. It's known that inflammation resolves normally in a subset of these patients — either naturally or with early treatment, while in other patients the inflammation doesn't go away, causing further damage to their bodies.
The goal of the study is to determine what the differences are between those people who suffer from ongoing inflammation and those who don't.
Congratulations to Dr. McDougall and the Dalhousie team on the Restitution Enhancement in Arthritis and Chronic Heart Disease (REACH) study, which is funded by a $2.3 million grant from the Canadian Institutes of Health Research and $100,000 from The Arthritis Society!