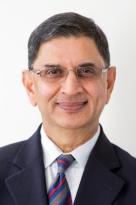 Department Head's Message
The Dalhousie Department of Anesthesia, Pain Management and Perioperative Medicine's first responsibility is to provide exceptional anesthesia care to people of all ages at the QEII Health Sciences Centre, the IWK Health Centre, the Saint John Regional Hospital, the Dartmouth General Hospital and the Hants Community Hospital.
In addition to providing excellent clinical care, our 100+ department members teach the latest techniques and skills to anesthesia residents and medical students, conduct medical research in many areas of anesthesia, and impact the lives of people in developing countries through their global health efforts. (Read more...)
Department Overview
The Dalhousie Department of Anesthesia, Pain Management and Perioperative Medicine has a four-fold mandate encompassing safe, quality patient care, education, research and stewardship of people's health at home and abroad.
Created in 1945, the department has grown to provide a full spectrum of critical care and general clinical services and administer leading edge programs in blood management, pain management and regional anesthesia. It subspecializes in cardiac surgery, neurosurgery, obstetrics, pediatrics, thoracic surgery and transplantation. (Read more...)
News
Currently Recruiting: Regional Anesthesia & Acute Pain Observership
This program is designed to offer FRCP anesthesiologist and nurses an observership experience in which they will learn how to set up and run a successful block room and acute pain service. The observership is a two day course were participants will refresh their ultrasound guided regional anesthesia skills, observe blocks in real patients, practice needling techniques in cadavers, and make acute pain rounds. Participants will learn how to deal with regional complications and deliver acute pain management for complex patients.
Full details of the program are available in the brochure, which you can download below.
For more information, please contact:
Jennifer Szerb MD, FRCP
Head of Regional Anesthesia
QEII Health Sciences Center
Halifax, NS
Phone: (902) 476-6325
szerbj@ns.sympatico.ca
A Mission in Rwanda
Eleven Dalhousie anesthesia residents have had the opportunity to teach and to learn in Rwanda through the department's partnership with the National University of Rwanda. Two others will undertake the mission in 2014.
After their mission, residents are asked to submit a reflection on their experience, which helps the department and their supervisors to appreciate the knowledge, skills and understanding residents gain and the impact they have while in Rwanda. Dr. Austin Lamb, PGY4 and Associate Chief Resident, visited Rwanda earlier this year with Dr. Orlando Hung. Here are a few excerpts from Dr. Lamb's reflection:
From the moment we arrived late in the evening of May 11th after some very long flights, we had one amazing experience after another. Of course, one of our main goals for this journey was to teach the Rwandan anesthesia residents. We accomplished this through several different avenues, namely through four Airway Workshops on separate dates, in-OR teaching, resident academic full-days, and small-group discussions out of the OR. To our knowledge, no one had ever conducted focused airway workshops in Rwanda, and these sessions were very well received.
Our goal was not just to come and teach Rwandans airway skills, but also to build a program that was self-sustainable by "teaching the teachers." To achieve this, we gradually had the Rwandan anesthesia staff take on more of a teaching role throughout the sessions, and by the end of the four workshops, they were doing a significant amount of the teaching. We also provided all of the teachers and learners with every PowerPoint lecture that we presented so that they could put on their own Airway Workshops in Kigali and throughout Rwanda once we left.
Perhaps the most obvious sign that their health-care is under-resourced is that anesthesia technicians are providing most of the anesthesia care and that both the technicians and residents have very little to no supervision simply because there are not enough anesthesia staff to go around and provide that function. Nevertheless, despite the lack of resources and late-presenting/under worked-up patients, the Rwandans do the best with what limited means they have and never complain about what is unavailable to them. This taught me that one does not always need the newest and latest drug or device to conduct a safe and effective anesthetic. The Rwandan experience also taught me the importance of appropriate resource allocation, such as which rooms should have the best ventilators (e.g. those where a GA is planned as opposed to a spinal), which rooms should have end-tidal CO2 monitoring and automatic BP cuff monitoring, and which rooms should get the pediatric filter for the circuit, just to illustrate a few examples.
We stressed to the Rwandan learners that this was just as much of a learning experience for us as it was for them, and this could not have been more true. I certainly developed my skills as a teacher both inside of the OR and outside of the OR, realizing that I often speak too fast when teaching (especially to students whose primary language is usually not English), that I should present information in smaller portions, and that I could use more pictures and videos in my presentations to help get my point across more understandably. The hardest aspect of teaching for me came from that fact that as a resident, I feared that the Rwandan residents might not respect the teaching of another resident peer as well as they would accept the teaching from an anesthesia staff. Throughout the one-month experience, however, I learned that if I had some useful knowledge or skills to convey, that it did not matter what my level on paper was (e.g. PGY-3 status) and that the residents were not discriminatory at all in that manner. As far as they were concerned, knowledge is knowledge, regardless of who is communicating it.
For all of us who went to Rwanda, it was truly an incredible experience. It is something we will never forget, and we will keep it with us for the rest of our lives. Not only did we learn a significant amount about the medical system here and improve upon our skills as teachers, we learned a significant amount about the people that shape this country. We were only there for a month, and there is always more room for continued learning and personal development, but we feel as though we bettered ourselves a lot and helped the system here significantly by accomplishing our objectives, whether that be through our Airway Workshops (and the potential for them to be self-sustaining), or through our teaching both inside and outside of the OR.
To learn more about the department's global health efforts, visit http://anesthesia.medicine.dal.ca/global-health/global-health.php.