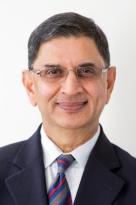 Department Head's Message
The Dalhousie Department of Anesthesia, Pain Management and Perioperative Medicine's first responsibility is to provide exceptional anesthesia care to people of all ages at the QEII Health Sciences Centre, the IWK Health Centre, the Saint John Regional Hospital, the Dartmouth General Hospital and the Hants Community Hospital.
In addition to providing excellent clinical care, our 100+ department members teach the latest techniques and skills to anesthesia residents and medical students, conduct medical research in many areas of anesthesia, and impact the lives of people in developing countries through their global health efforts. (Read more...)
Department Overview
The Dalhousie Department of Anesthesia, Pain Management and Perioperative Medicine has a four-fold mandate encompassing safe, quality patient care, education, research and stewardship of people's health at home and abroad.
Created in 1945, the department has grown to provide a full spectrum of critical care and general clinical services and administer leading edge programs in blood management, pain management and regional anesthesia. It subspecializes in cardiac surgery, neurosurgery, obstetrics, pediatrics, thoracic surgery and transplantation. (Read more...)
News
New Teaching and Learning Course
Anesthesia, Pain Management & Perioperative Medicine residents are now participating in a course designed to help them acquire skills for effective teaching and ongoing learning in anesthesia. The Teaching and Learning Course, developed by Drs. Patty Livingston and Ruth Covert, addresses the need for anesthesiologists to keep current with ever-changing knowledge and to be skilled at teaching peers, trainees, allied health professionals and patients.
The course is comprised of four half-day tutorials. The first tutorial was offered last June and was repeated for a new group of residents in October. The three subsequent tutorials will be delivered over the remaining academic year. Topics include: learning theory, small group teaching, clinical teaching, large-group presentation, teaching technical skills, simulation, feedback and mentorship.
As much as possible, course activities are relevant to what residents actually do. For example, residents currently teach small-group sessions to incoming residents in orientation. These sessions are planned during the small-group module of the course. When the residents teach during orientation, they are observed by staff and receive feedback on their teaching skills.
Dr. Jon Bailey attended the tutorial offered in October. He is quick to point out the benefits of a course focused on teaching professional students. "This highly applied course uses to educational theory and innovative instructional methods to enhance education of medical students by residents," says Dr. Bailey. Dr Bailey, and his fellow PGY2s, were given the opportunity to guide how the department delivers education to elective medical students by developing learning modules.
The Teaching and Learning Course will be shared with the anesthesia department at the University of Ottawa and, with other national anesthesia departments, as the need arises. This is in keeping with resource sharing among anesthesia programs as Canada adopts competency based medical education.