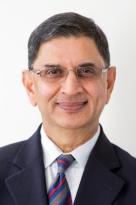 Department Head's Message
The Dalhousie Department of Anesthesia, Pain Management and Perioperative Medicine's first responsibility is to provide exceptional anesthesia care to people of all ages at the QEII Health Sciences Centre, the IWK Health Centre, the Saint John Regional Hospital, the Dartmouth General Hospital and the Hants Community Hospital.
In addition to providing excellent clinical care, our 100+ department members teach the latest techniques and skills to anesthesia residents and medical students, conduct medical research in many areas of anesthesia, and impact the lives of people in developing countries through their global health efforts. (Read more...)
Department Overview
The Dalhousie Department of Anesthesia, Pain Management and Perioperative Medicine has a four-fold mandate encompassing safe, quality patient care, education, research and stewardship of people's health at home and abroad.
Created in 1945, the department has grown to provide a full spectrum of critical care and general clinical services and administer leading edge programs in blood management, pain management and regional anesthesia. It subspecializes in cardiac surgery, neurosurgery, obstetrics, pediatrics, thoracic surgery and transplantation. (Read more...)
News
Two Gold Headed Cane Awards!
Congratulations to Dr. John Fraser and Dr. Mary Lynch on being recognized with Gold Headed Cane Awards.
Dr. Fraser is the 2015 recipient of the Gold Headed Cane Award for Excellence in Medical Practice from the College of Physicians and Surgeons of Nova Scotia. The award honours an outstanding community-based physician who exemplifies professionalism in service to their patients, profession and community.
Dr. Lynch is this year's recipient of the Dr. G.W. Archibald Gold Headed Cane Award in Medical Humanities awarded by the Dalhousie Faculty of Medicine. The award is presented to a physician faculty member who combines scholarly attainments, humanism and professional skills; and who serves as an effective role model for students in the medical humanities.
A gala dinner in their honour will be held February 7, 2015.