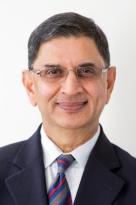 Department Head's Message
The Dalhousie Department of Anesthesia, Pain Management and Perioperative Medicine's first responsibility is to provide exceptional anesthesia care to people of all ages at the QEII Health Sciences Centre, the IWK Health Centre, the Saint John Regional Hospital, the Dartmouth General Hospital and the Hants Community Hospital.
In addition to providing excellent clinical care, our 100+ department members teach the latest techniques and skills to anesthesia residents and medical students, conduct medical research in many areas of anesthesia, and impact the lives of people in developing countries through their global health efforts. (Read more...)
Department Overview
The Dalhousie Department of Anesthesia, Pain Management and Perioperative Medicine has a four-fold mandate encompassing safe, quality patient care, education, research and stewardship of people's health at home and abroad.
Created in 1945, the department has grown to provide a full spectrum of critical care and general clinical services and administer leading edge programs in blood management, pain management and regional anesthesia. It subspecializes in cardiac surgery, neurosurgery, obstetrics, pediatrics, thoracic surgery and transplantation. (Read more...)
News
Regional Block Abstract Chosen as Best of Meeting Winner
Histological Confirmation Of Needle Tip Position During Ultrasound-Guided Interscalene Block: A Randomized Comparison Of Intraplexus and Periplexus Approach was recently chosen as a Best of Meeting Abstract by the American Society of Regional Anesthesia and Pain Medicine (ASRA). The abstract, chosen from among 320 entries, will be presented by Dr Kwesi Kwofie at the 40th annual ASRA meeting in May.
The use of ultrasound for regional anesthesia has emerged in the last 10 to 15 years. It is still unknown where to place the needle tip relative to the nerve to provide a reliable and safe block. This study compared two commonly performed nerve block techniques as the nerves emerge from the neck, to see which approach best avoided penetrating neural structures. The study, led by Dr. Jennifer Szerb with co-investigators, Dr. Kwofie, Dr. Justin Greenberg, William Baldridge, PhD, Robert Sandeski, and Juan Zhou, PhD, is the largest cadaver study of its kind to date and was funded by Capital Health Research Fund.
"We detected the potential for nerve injury in 11.5% of injections with the intraplexus approach, and complete avoidance of nerve structures with the periplexus technique" explained Dr. Szerb. The results of this study provide evidence of a safer way to provide neural blockade to patients, and will influence how anesthesiologists perform their blocks in the future.
This research had important hidden outcomes: the experience gained by Dr. Greenberg, a regional anesthesia fellow who completed all of the blocks in the study, and the relationships fostered with the Dalhousie Department of Medical Neuroscience. Exposure to the anatomy lab is now an integral component in teaching regional anesthesia both to residents and to anesthesiologists across the Maritimes.
The results of this study form the basis of a number of future research questions that the regional group wishes to pursue, looking at best techniques at other anatomic nerve locations in cadavers. This is in addition to a number of research projects Drs. Kwofie and Uppal have on the go; from investigating how best to avoid diaphragm paralysis with a supraclavicular block to how to optimize the needle visualization with ultrasound. Beyond providing state of the art clinical care, the regional anesthesia program is now fully realizing its academic mandate, providing excellent teaching and award winning research.