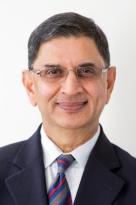 Department Head's Message
The Dalhousie Department of Anesthesia, Pain Management and Perioperative Medicine's first responsibility is to provide exceptional anesthesia care to people of all ages at the QEII Health Sciences Centre, the IWK Health Centre, the Saint John Regional Hospital, the Dartmouth General Hospital and the Hants Community Hospital.
In addition to providing excellent clinical care, our 100+ department members teach the latest techniques and skills to anesthesia residents and medical students, conduct medical research in many areas of anesthesia, and impact the lives of people in developing countries through their global health efforts. (Read more...)
Department Overview
The Dalhousie Department of Anesthesia, Pain Management and Perioperative Medicine has a four-fold mandate encompassing safe, quality patient care, education, research and stewardship of people's health at home and abroad.
Created in 1945, the department has grown to provide a full spectrum of critical care and general clinical services and administer leading edge programs in blood management, pain management and regional anesthesia. It subspecializes in cardiac surgery, neurosurgery, obstetrics, pediatrics, thoracic surgery and transplantation. (Read more...)
News
Register Today: CAS Atl Reg Mtg! Early Registration Deadline: August 15th
Register Today! Early Registration Deadline: August 15th
2014 CAS Atlantic Regional Meeting
September 13 & 14
Baddeck, Nova Scotia
This meeting in beautiful Baddeck, Cape Breton Island, will provide specialist anesthesiologists, as well as other health care professionals working in the field of anesthesia, an opportunity to review new and emerging concepts in anesthesia, innovations in the standard of care, and new and novel approaches to the delivery of anesthesia.
Topics
Modern Ventilation Strategies – Lessons Learned from the ICU
Self-Assessment of Anesthesia Practice: AIMS and Clinical Outcomes
Addiction and Anesthesia
Current Topics in Videolaryngoscopy
Introduction to Trans-Thoracic Echocardiography
Royal College: What is Section III CME?
Challenges for Community Anesthesiologists
Update in Post-Operative Residual Neuromuscular Blockade
Massive Transfusion Protocol – Military Perspectives
Evidenced Based Resuscitation of Traumatic Brain Injury
CME Information
Application pending, with 10.0 anticipated CME credit hours.
Recreation Activities
Baddeck is a beautiful area of Nova Scotia on Cape Breton Island's Bras d'Or Lake. The community is home to many recreation activities, including golfing, kayaking, sailing, hiking and sightseeing.
Two recreation activities have been arranged for meeting registrants and their guests. More information on these and other recreation activities are available on the event website.
Golfing for meeting registrants and guests
Bell Bay Golf Club on Saturday, September 13, beginning at 1:30 p.m. Maximum of 28 golfers. The cost per golfer, including cart rental is $87.50 + tax.
Sailing on Bras d'Or Lake for meeting registrants and guests
Amoeba Sailing Tours of Baddeck on Saturday, September 13, at 3:30 p.m. Maximum of 40 guests. The cost per person is $25 plus HST.
Registration
Online registration is now available. Register today to guarantee the early registration rate of $300 (registration received by August 15th). Registration after August 15th is $350.
Residents - $125.00
Nurses / RTs / AAs - $125.00
To register and for more information, visit: http://nsanesthesia.ca/s/casatlantic