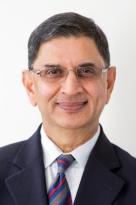 Department Head's Message
The Dalhousie Department of Anesthesia, Pain Management and Perioperative Medicine's first responsibility is to provide exceptional anesthesia care to people of all ages at the QEII Health Sciences Centre, the IWK Health Centre, the Saint John Regional Hospital, the Dartmouth General Hospital and the Hants Community Hospital.
In addition to providing excellent clinical care, our 100+ department members teach the latest techniques and skills to anesthesia residents and medical students, conduct medical research in many areas of anesthesia, and impact the lives of people in developing countries through their global health efforts. (Read more...)
Department Overview
The Dalhousie Department of Anesthesia, Pain Management and Perioperative Medicine has a four-fold mandate encompassing safe, quality patient care, education, research and stewardship of people's health at home and abroad.
Created in 1945, the department has grown to provide a full spectrum of critical care and general clinical services and administer leading edge programs in blood management, pain management and regional anesthesia. It subspecializes in cardiac surgery, neurosurgery, obstetrics, pediatrics, thoracic surgery and transplantation. (Read more...)
News
First of a Lifetime Experience in Halifax
Dr. Isaac Nshimyumuremyi had a long wait before he would board a plane for the first time and travel thousands of miles away from his family, his friends and his colleagues for more than three months. He was coming to Canada, to Halifax, to see how things are done in another part of the world.
Dr. Nshimyumuremyi has been in Halifax for just over three weeks and he says the waiting and the preparation have already paid off. Dr. Nshimyumuremyi and his colleague, Dr. Gaston Nyirigira, are anesthesia residents at the National University of Rwanda. They are here to see how anesthesia care is delivered, to learn more about the specialty, and to experience healthcare in a developed country.
"Here we see that patients – all people – are treated with such respect. There is a way that doctors and patients talk with one another, and people talk with one another, treat each other, that is very real, very accepting, very kind. If I take nothing more home with me than this learning, the trip will have been worth it," says Dr. Nshimyumuremyi.
Drs. Nshimyumuremyi and Nyirigira are the third pair of anesthesia residents who have come to Halifax since 2010. The two will share their experiences and learning upon their return to Rwanda as have their colleagues.They are now a part of an ongoing connection between to our department and Rwanda – whether through research projects, the simulation and skills centre, or working with the department's staff and residents when they teach in Rwanda.
Gaston notes that before they came to Halifax they benefitted from talking with their colleagues who have been here for similar experiences in previous years.
"They told us what to expect in the OR, what procedures and equipment we would see, what Dalhousie and Halifax are like, and about how friendly and welcoming people would be. We also asked for tips on cultural differences and etiquette – very helpful," says Dr. Nyirigira.
Drs. Nshimyumuremyi and Nyirigira will be in Halifax until mid-July. During their time here, they will spend many hours observing anesthesia care in operating rooms and in clinics, participating in academic days, presenting at the Bethune Roundtable in Vancouver, and enjoying various cultural and social events with new and old friends in Halifax.