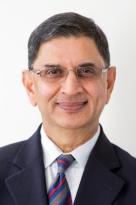 Department Head's Message
The Dalhousie Department of Anesthesia, Pain Management and Perioperative Medicine's first responsibility is to provide exceptional anesthesia care to people of all ages at the QEII Health Sciences Centre, the IWK Health Centre, the Saint John Regional Hospital, the Dartmouth General Hospital and the Hants Community Hospital.
In addition to providing excellent clinical care, our 100+ department members teach the latest techniques and skills to anesthesia residents and medical students, conduct medical research in many areas of anesthesia, and impact the lives of people in developing countries through their global health efforts. (Read more...)
Department Overview
The Dalhousie Department of Anesthesia, Pain Management and Perioperative Medicine has a four-fold mandate encompassing safe, quality patient care, education, research and stewardship of people's health at home and abroad.
Created in 1945, the department has grown to provide a full spectrum of critical care and general clinical services and administer leading edge programs in blood management, pain management and regional anesthesia. It subspecializes in cardiac surgery, neurosurgery, obstetrics, pediatrics, thoracic surgery and transplantation. (Read more...)
News
Four-month Haligonians
In early March, Drs. Egide Buregeya and Françoise Nizeyimana arrived in Halifax to face frigid temperatures and a blanket of white. Two days before, they left their families in Rwanda to pursue anesthesia electives in Canada at the Department of Anesthesia, Pain Management & Perioperative Medicine. Drs. Buregeya and Nizeyimana, both third-year anesthesia residents at the University of Rwanda, began their four-month educational elective on March 2nd.
The two have similar goals for the elective - recognizing it as a unique opportunity to learn about the practice, teaching and study of anesthesia and the healthcare system in a Western country and then to apply that knowledge in Rwanda - though they have differing areas of interest.
Dr. Buregeya is especially interested in regional anesthesia and critical care medicine, and was keen to participate in the elective since first learning of the opportunity several years ago. "There are now other opportunities for anesthesia residents to study abroad, but those programs are just getting started. We have heard more about coming to Halifax than any other opportunity, and it was all good," he says.
Dr. Nizeyimana planned carefully to come to Halifax, enlisting the help of her mother and support of her husband to ensure her young daughter would be okay with the separation. "I very much wanted to come to Halifax, but it was a difficult decision for me to leave my family. I will learn as much as I can while I'm here, especially in pediatric and regional anesthesia, but I also hope to explore Halifax and Nova Scotia."
Thus far in their Halifax experience, Drs. Buregeya and Nizeyimana have participated in high-fidelity simulation, attended academic lectures, provided anesthesia care, and enjoyed the hospitality of many department members.
"Though anesthesia and healthcare have advanced relatively quickly in Rwanda, we particularly appreciate the emphasis on patient safety, evidence-based care, and teamwork and communication here," says Dr. Buregeya.